Water Damage Restoration & Cleanup in Alliance, Ohio
11/10/2022 (Permalink)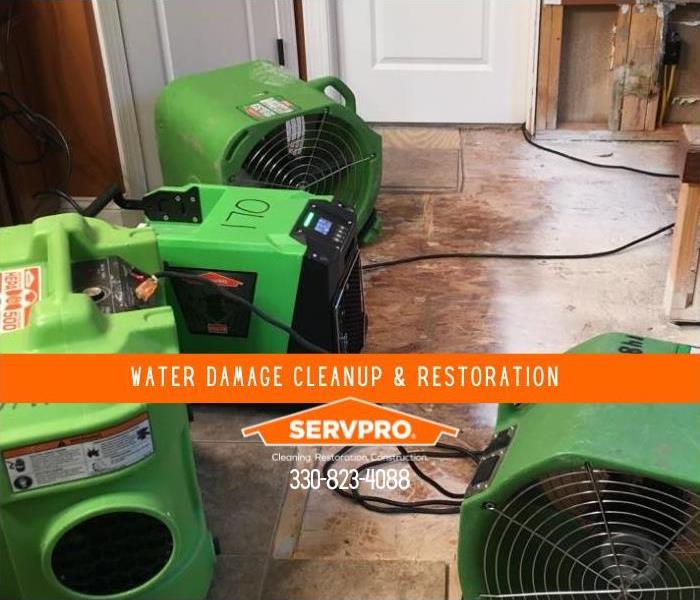 SERVPRO equipment drying out a kitchen that had a pipe-break that caused major damage to a home in Alliance, Ohio.
Many of our water mitigation jobs are the result of interior, man-made, breaks or failures. Take a moment and consider all the areas in a home that may have a water damage in some capacity. Bathrooms have toilet and sink overflows, kitchens under the sink pipe-breaks, major appliances like a dishwasher or refrigerator can have a water line mishap, and do not forget your outside water spigots breaks - just to name a few.
It is important to know where your main water shut-off valve is in your home or business. When a water damage occurs, it is essential to turn off the main switch. Water can cause major damage and the quicker you can stop the easier and less costly the water cleanup and restoration will be. Local restoration companies have the knowledge and equipment to clean up the water damage. Trying to repair extensive water damage yourself could make the problem worse or not drying your areas completely could cause secondary damage such as the growth of mold.
Water damage in your home can cause damage to your structure. The following may need to be repaired or even replaced:
Tile
Wood
Laminate
Electrical wiring
Drywall
Wallpaper
Paint
For Water Damage Cleanup in Alliance, Ohio
When you choose SERVPRO South & East Stark County, you have a full-service restoration, cleanup, and construction company to help you through a water damage. With years of experience and training, they will quickly get your life back in order. Our crews follows a highly regulated processes to ensure that the water damage restoration not only is effective, but also provides a safe place for homeowners during the restoration process. Emergency services are available 24 hours a day – 7 days a week to restore your home to "Like it never even happened." Call SERVPRO of South & East Stark County your local water restoration and cleanup company in Alliance, Ohio at 330-823-4088!